Collaborative Working Improves Theatres Inventory Management at King's Mill Hospital
eDC Gold is an inventory management platform designed to manage consignment, high value and critical care products. Providing inventory visibility without license fees or upfront implementation costs, which are typically associated with healthcare inventory systems.

NHS Supply Chain have been working with Sherwood Forest Hospitals NHS Foundation Trust for several years. Most recently, the largest of the three sites within the trust, King's Mill Hospital went live with eDC Gold in Orthopaedics in November 2021 and have expanded eDC Gold in the trust by going live with trauma as a secondary implementation in February 2022.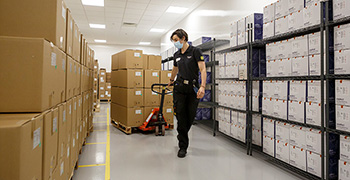 The NHS Supply Chain Implementation Manager worked closely with the Theatre Resource Department at King's Mill Hospital on all aspects of the process. The team were extremely supportive throughout the set up and always made time to go through all the steps from the initial meeting to eDC Gold go live in Orthopaedics. Regular meetings helped confirm all the levels and correct stock, as well as being really clear and communicative with the wider Theatres staff to let them know of the changes that eDC Gold will bring.
The King's Mill site now have all NHS Supply Chain available stock in Orthopaedics on eDC Gold and have initially gone live with the Depuy Synthies stock in Trauma, totalling over 3,000 lines.
Following the successful implementation King's Mill now benefit from:
Greater stock visibility with track and trace functionality.
Enriched management data through the capture of both batch and serial references, alongside product expiry dates.
Reduce surplus and expired stock for high-value products. As a result, delivering both procurement savings and improvements to your internal supply chain stock.
The foundation to provide additional savings throughout the supply chain, from supplier to end user.
The team at NHS Supply Chain took a lot of the stress out of implementing eDC Gold for Orthopaedics and Trauma. Since we implemented the eDC Gold system we've saved a huge amount of time and reduced the risk of error with the tracking functionality. The Resource Dept would like to thank Gary and the team for their dedication and help with getting the staff trained up on EDC Gold.

Scott Cairns, Theatre Resource Coordinator, Sherwood Forest Hospitals NHS Foundation Trust
Please get in touch with our experienced Implementation Managers. We would welcome an initial discussion to better understand your current service requirements and to discuss the potential savings and benefits of the NHS Supply Chain eDC Gold service.
Interested in how we can support you with inventory management? Please request a consultation with us:
eCommerce Deployment (eDC) Team