Culinary Chef's Academies: Full Stomachs and Full Minds
At the start of the year, NHS Supply Chain: Food Culinary and Dietetics team conducted two exciting Chef's Academies:
North Kent College on 24 January 2023 – promoting plant-based food through our Root Kitchen Culinary Concepts.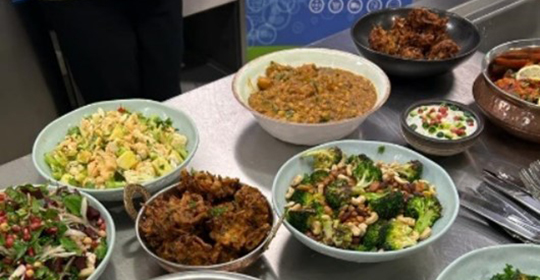 Bournemouth and Poole College on 3 February 2023 – promoting our new Cakes and Bakes Culinary Concept.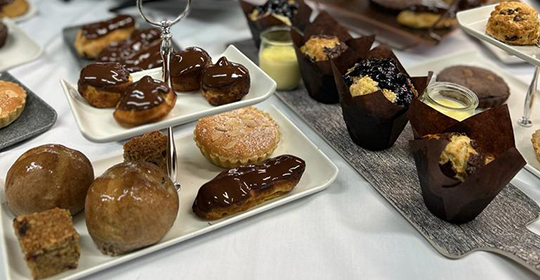 These events demonstrated how combining relevant, tailored training programmes with delicious, new recipes, we can help to motivate and inspire the great chefs working within our NHS trusts.

Our Chef's Academies are a perfect example of how the nutritional team can link dietary expertise with practical cost savings, by recommending achievable switches. NHS Supply Chain: Food frameworks can assist with the provision of healthy, tasty food and help to reduce spend within your NHS trust.
Objectives
Teach new culinary skills through a practical, hands-on learning approach.
Inspire NHS chefs by introducing them to new, tasty recipes and show how NHS Supply Chain: Food Culinary Concepts can be adapted and recreated within their trust.
Give insights into the National food review and the mandatory NHS food standards.
Understand the importance of nutrition and dietetics within hospitals.
Foster discussion and collaboration with other NHS chefs to create great food, while also providing the opportunity to share best practices.
Added Value
The dietetic team also secured additional Chef's Academies at Birmingham City University and Warrington and Vale Royal College, where they were supporting the rollout of some of the newer Culinary Concepts.

Our Chef's Academies provide added value and inspiration for our NHS catering teams and are always well received – this is reflected in our average rating of 9.7 out of 10 feedback scores, as voted by the chef attendees. As a gesture of our appreciation for their time and participation, each attendee is given a free apron to take away with them.
Look out for more Chef's Academy dates soon to be shared. For further information on our Chefs Academies or Culinary Concepts, please get in touch with your local Food Account Manager or contact our NHS Supply Chain: Food team:
Food Team