Eight fully electric trucks take to the road delivering to the NHS
The NHS will soon be receiving medical consumable products delivered by a fleet of eight fully electric trucks, as part of the Department for Transport's £10 million Battery Electric Truck Trial (BETT).
NHS Supply Chain in partnership with its logistics provider Unipart Logistics is one of the key operators in the 12-month pilot project which is seeing 20 DAF LF Electric trucks using pioneering technology entering service with the NHS and local authorities.
NHS Supply Chain is commencing the use of eight 19-tonne LF Electric rigids with refrigerated bodies at four locations across the country: Bury St Edmunds, Normanton, Rugby and Alfreton. It will feed back real-time performance data for the zero emission vehicles.
The BETT focuses on vehicles, charging infrastructure, user training, repair and maintenance, and total cost-of-ownership, providing operational insight across a variety of duty cycles. It is part of the Government's wider £20 million zero emission road freight trials and is delivered using the Small Business Research Initiative, a process bringing together government challenges and ideas from businesses to create innovative solutions.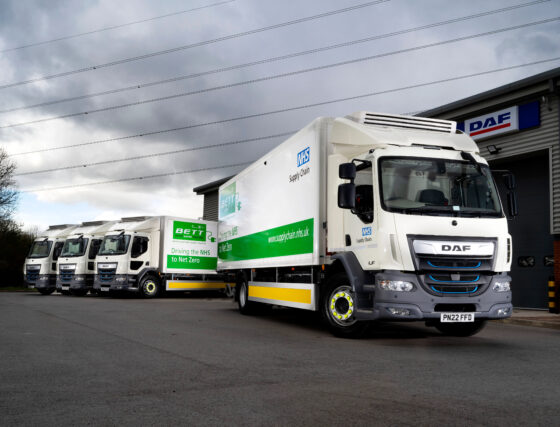 It is really exciting to be part of one of the largest and most significant deployments of zero emission heavy goods vehicles in the UK to date. Everything on our zero emission vehicles is electric, even the refrigeration units. Driving down our carbon emissions is one of our top priorities and this is just one of the ways we're supporting the NHS to achieve their net-zero target by 2045, which has wide-ranging health benefits for us all, not least around air quality.

Chris Holmes, Director of Supply Chain, NHS Supply Chain
We are excited to be working with our customer NHS Supply Chain to run the Battery-Electric Truck Trial, which also supports the Unipart UN Race To Zero commitment to be carbon neutral by 2030 and net-zero by 2050. The trial will provide us with valuable insight into operating fully-electric vehicles of this size as part of our fleet, so we can understand how best to facilitate a charging network, driver training and the potential to grow this technology in the future. We are committed to delivering a safe and sustainable service in support of our frontline care customers.

Claire Salmon, NHS Supply Chain Director, Unipart Logistics
The trucks have entered day-to-day operations while at the same time gathering real-time performance data; the results from which will be used in an interactive website to inform future fleet operator buying decisions and help stimulate the sale of battery electric trucks. With the Government having set ambitious targets to end the sale of non-zero emission heavy goods vehicles from 2035 (for vehicles of 26-tonne Gross Vehicle Weight – the maximum weight of the vehicle plus the load and below, and 2040 for heavier vehicles) the BETT is expected to make a significant and positive impact upon the move to zero emission vehicles.
All the vehicles in the trial feature the distinctive Battery Electric Truck Trial logo.
Jo Travis
Corporate Communications Manager
07598 546 070
Notes to editors
All information in this press release is correct at the time of going to press.
See our Useful Links section for more information relating to this press release.
About NHS Supply Chain
NHS Supply Chain manages the sourcing, delivery and supply of healthcare products, services and food for NHS trusts and healthcare organisations across England and Wales.
Managing more than 8 million orders per year, across 94,000 order points and under 17, 500 locations. NHS Supply Chain delivers over 28 million lines of picked goods to the NHS annually and our systems consolidate orders from over 930 suppliers, saving trusts time and money in removing duplication of overlapping contracts.
NHS Supply Chain aims to deliver savings of £2.4 billion back into the NHS by 2023/2024, leveraging the buying power of the NHS to drive savings and provide a standardised range of clinically assured, quality products at the best value through a range of specialist buying functions. Its aim is to leverage the buying power of the NHS to negotiate the best deals from suppliers and deliver savings back into NHS frontline services.
There are 11 specialist buying functions, known as Category Towers, delivering clinical consumables, capital medical equipment and non-medical products such as food and office solutions. Two enabling services for logistics and supporting technology underpin the model.
Working in partnership with NHS trusts, service providers, and stakeholders, NHS Supply Chain aims to:
Anchor the business on the needs of the NHS by supporting NHS trusts to deliver safe and excellent patient care and through continuing to build the services the NHS needs.
Further strengthen the resilience of the supply chain by continuing to invest in key tools and capacity that build resilience and performance, across the end to end supply chain.
Deliver clinically assured, safe products that support improved outcomes for patients and users.
Support the NHS objective of becoming the world's first net carbon zero national health system.
Ensure a high performing workforce and highly efficient organisation.
Oversight and operational management of NHS Supply Chain is delivered by the management function, Supply Chain Coordination Limited (SCCL). SCCL was incorporated on 25 July 2017 and is a company registered in England and Wales, company number 10881715. NHS Commissioning Board (NHS England and NHS Improvement [NHSEI]) are the sole shareholders of SCCL.
SCCL is a separate organisation to NHSEI and part of the NHS family.