Continuing ICN Improvements: Now Even More Visibility
Our 'Early Informs' section has proved to be of real value to our customers since launch, ensuring that the NHS is given information about potential supply disruption as soon as we are made aware.
There are three status options for 'Early Informs' as follows:
In Progress – we don't yet have enough information to publish an Important Customer Notice (ICN).
Moved to ICN – an 'Early Inform' that has now progressed to a full ICN about the supply issue.
Resolved – an issue that we informed you about but was resolved quickly and did not require an ICN.
Customers are advised to regularly visit our 'Early Inform' page https://www.supplychain.nhs.uk/product-information/customer-notices/ for the latest updates.
As part of our ongoing improvements programme, we now also provide extra visibility to customers on:
Control and Protect – demand managed products – a weekly Excel file detailing the products currently subject to Control and Protect demand management.
NPCs removed from Protect – a product listing – a weekly Excel file that details the NPCs that have been removed from Protect demand management.
ICN weekly dashboard – this file lists ICNs containing suspended products and the suspended product codes on each ICN.
In addition, all of the supply issue NPC codes are routinely added to our search facility.
In response to further customer feedback, we have added a new filter for Important Customer Notices (ICNs) relating to products supplied through the PPE Portal and Auto Replenishment model.


Following further feedback, we have made additional improvements to search results for Important Customer Notices (ICNs).
Full title of the ICN is now displayed in search results and includes the ICN number on the end of the link title.
The same change has been replicated on the website Home page 'Live Feed' section (near the bottom of the screen).
Date of the most recent update is also now included as a prefix for the 'Teaser text' in search results that include ICNs.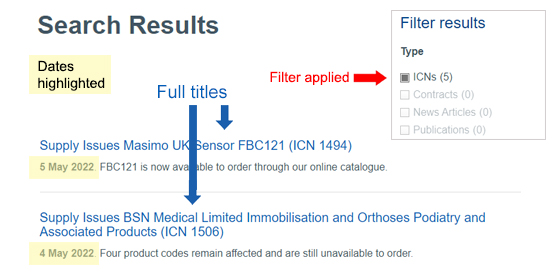 In response to further customer feedback we have added a new filter for Important Customer Notices (ICNs) relating to Contractual Change.
In addition we have also added a count of the total number of ICNs on our website and for each of the filtered options – Contractual Change, Field Safety Notice and Supply Issues.


Since the update on 10 November 2021, we have removed the word 'Temporary' from our Important Customer Notices. Instead, we display the shortened version 'Supply Issues'.
The nature of the supply disruption typically remains 'temporary' but the new naming convention is hopefully clearer and more immediately understood by a first-time viewer of our website.
Following further customer feedback, we are also introducing a change to the title of each notice.
This will now include the ICN type at the beginning of the title.
In response to customer feedback, we have made it easier to find ICNs that relate to a 'Field Safety Notice' or a 'Temporary Supply Issue'.
You can now quickly display these types of ICNs by using the new Filter options
The filtered display will show the 50 most recent ICNs, with the latest showing first (10 per page).
Filters will only show ICNs relating to products in clinical use.
If you prefer to view all ICNs, ensure that a Filter is not selected.
ICN page: Before the change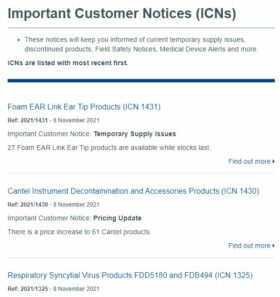 ICN page: After the change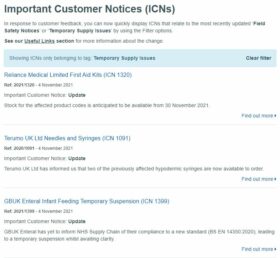 Alternative Recommendation: Using Search
You can find specific content including ICNs by using our website's Search.
In the example shown, the word 'catheters' was our chosen search term.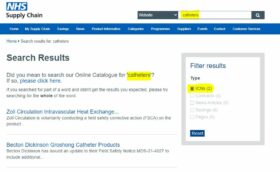 In response to customer feedback and as part of our continuous improvement programme of website changes, the Important Customer Notice (ICN) number now shows at the end of the ICN title.
This change will enable you to find ICNs easier, and quicker. Making the ICN number more visible on the Important Customer Notices home page will help you to identify updates to ICNs that you may already be aware of, without the need to click through to the individual page.
Our search function is improving continuously and a recent update means that you can now search for Important Customer Notices (ICNs) via the product code (NPC) in addition to the ICN number, name of ICN and keywords.
This update applies to all ICNs published as of 18 November 2019. This means that you can now search for an NPC on this information website to check if there are any Important Customer Notices before proceeding to the online catalogue to view or order the product.