Inspiring NHS Chefs with Culinary Concepts
Key Facts:
Six culinary concepts inspired by global cuisine
All recipes are nutritionally analysed
75% of recipes are 600 kcal or less
75% of recipes meet national calorie and salt reduction targets
Some recipes are suitable for patients who require extra calories to aid in recovery
116 vegetarian or vegan recipes
All ingredients are available from our Multi-Temperature Distribution (MTD) framework
The recipes are regularly reviewed and updated.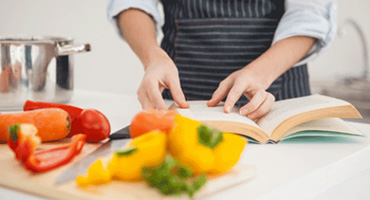 Our Culinary Concept recipes have been designed to provide NHS kitchens with comprehensive support, offering user-centric tools and insights beyond basic lists of ingredients and cooking instructions. The aim of the Culinary Concepts is to benefit not just NHS catering staff, but everybody who eats in the hospital environment, by providing them with delicious meal options. Each recipe in the Culinary Concept range has been designed by our expert culinary team, and nutritionally analysed by our dietetics team, to give clear visibility of each recipe's nutritional breakdown.
Thank you for the recipes. I went shopping to buy the ingredients as soon as I received them to test the recipes at home. I have showed my colleagues the Khana Khana recipe book, they are all keen for the restaurant to have some of the dishes on the menu very soon.

Gill Owen, Cook, The Robert Jones and Agnes Hunt Orthopaedic Hospital NHS Foundation Trust
Following calls in the Hospital Food Review for greater support for NHS Catering Staff, NHS Supply Chain: Food developed the Culinary Concepts, and their companion project, the Chef's Academies. The latter are training events for NHS chefs in which they receive hands-on guidance on cooking recipes found in the Culinary Concepts range.
One objective of the Culinary Concepts was to increase the variety of dishes found on hospital menus, injecting innovation while still being manageable for hospital kitchens. Each Culinary Concept is inspired by market trends, cuisines from around the globe and feedback from our partnering NHS trusts. The Culinary Concepts are a bank of over 200 recipes:
Great British Dishes: 41 recipes
Being inspired by cooking from around the world and bringing new and exciting flavours into NHS hospitals has brought important benefits to patients, beyond nutritious and tasty food. Khana Khana has been praised for the representation it provides for BAME staff and visitors.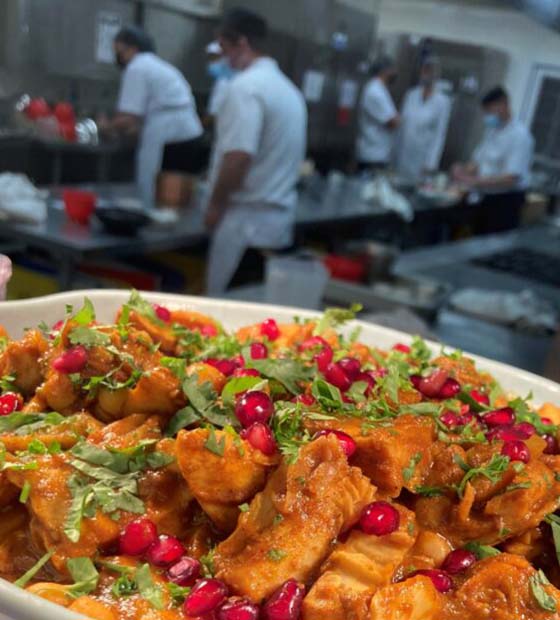 For South Asian Heritage Month, we created a menu using recipes from the Khana Khana booklet for one full day, each week of the month. This was at both sites for the trust, below is a comment from Twitter:

Lunch is served. Once again, the canteen at Fieldhead went above and beyond for this week's celebration by serving food for #SouthAsianHeritageMonth. Thank you for bringing this to Wakefield @HWPBame_SWYPFT

Michael Booth – Catering Production Manager, South West Yorkshire Partnership NHS Foundation Trust
The culinary concepts provide inspiration from cuisines closer to home with the final instalment, Gustoso, bringing a vibrant and fresh Italian offer. While Great British Dishes, launched at the end of 2021, provides a celebration of traditional cuisine, often requested from NHS catering teams.
A key feature of our Culinary Concepts is that every ingredient, used across all 200+ recipes, can be ordered through our MTD framework. This route to market was launched to simplify both the food ordering and delivery processes for hospitals.
Each recipe sheet contains a number of features intended to make the lives of NHS catering staff easier. The sheets include each ingredient's supplier code, to make ordering easier, and nutritional analysis showing information such as calories and allergens.
There is also a scaling function, for users to scale up or down the number of portions required. Doing so automatically adjusts the quantities of ingredients needed in each recipe. This allows for greater visibility on costs, as well as reduces the potential for waste.
Praise for our culinary concepts
Our Culinary Concepts are still in the process of being rolled out, with the final launching shortly. So far, their reception has been extremely positive.
The chicken dishes [found on Hatched] look good in the new concept and this will give us something to add to our bank of dishes for the bistro menus. Just to confirm we have added a number of the dishes from both the Bamboo and Khana Khana concepts on to our bistro menus since your last visit and the feedback has been very positive and well received from our customers.

Neil McGregor, Facilities and Estates, Midlands Partnership Foundation Trust
The Banh Mi [found on Bamboo] outsold the fish and chips, it was a big success. I do have plans to add some of the plant-based recipes from Root Kitchen, hopefully by end of September 2022.

Francesco Fiore, Catering Manager Milton Keynes University Hospital NHS Foundation Trust
This feedback came following a pop-up event, hosted by our Culinary Team, in trust at Milton Keyes University Hospital, a further added value service that can be provided upon request.
We are now including two dishes per week on our rolling menus and they are proving popular with customers. We have also included one dish per week from the Root kitchen onto our menus, again these are proving popular with customers.

Michael Booth – Catering Production Manager, South West Yorkshire Partnership NHS Foundation Trust
To date, our Culinary Concepts have proved an excellent example of the type of added value service that NHS Supply Chain: Food can provide for the NHS, and proof that the NHS remains at the heart of everything we do. There are ongoing discussions with more than 34 trusts about using recipes from the Culinary Concepts and the team aim to continue to support catering teams with this developing bank of recipes and other culinary support.
To download free sample recipes from each of our live Culinary Concepts, visit our website here. Alternatively, reach out to your local NHS Supply Chain: Food Account Manager.