New Surgical Instruments framework sees a focus on sustainable products
As part of its drive to help the NHS reach carbon net zero by 2045, NHS Supply Chain is working with suppliers to provide a range of sustainable surgical instruments that can be recycled, reused or repaired, decreasing the amount of waste going to landfill.
Both single use and reusable surgical instruments, including scalpels and blades, are widely used in all trusts and in all surgical procedures by surgeons and clinicians.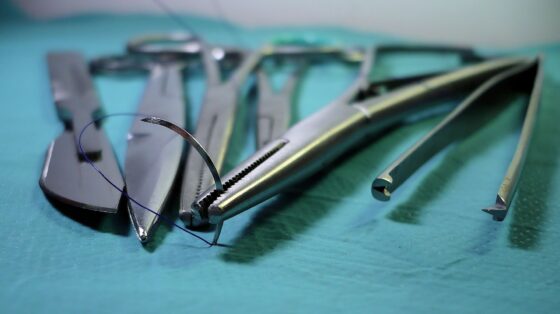 Now, a new framework with an increased choice of products including sustainable items, allows trusts to take advantage of additional services including repairs, maintenance and recycling. It also enables customers to build in suppliers and repairs to their contracts.
"We are delighted to be leading the way in helping trusts meet their sustainability targets with the potential to recycle surgical instruments.

"Our suppliers are actively seeking to be more sustainable and we're pleased to be able to work with them to bring an even greater choice of products for NHS customers than before."

Mohammed Khan, Senior Category Manager, NHS Supply Chain: Sterile Intervention Equipment and Associated Consumables
There are five Lots on this new framework:
Lot 1: Single Use Instruments and Packs
Lot 2: Reusable Surgical Instruments
Lot 3: Scalpel Blades, Scalpel Handles and Disposable Scalpels
Lot 4: Repair and Maintenance of Surgical Instruments
Lot 5: Metal Instrument Recycling.
The new framework will run until August 2023.
About NHS Supply Chain
NHS Supply Chain manages the sourcing, delivery and supply of healthcare products, services and food for NHS trusts and healthcare organisations across England and Wales.
Managing more than 8 million orders per year, across 94,000 order points and under 17,500 locations. NHS Supply Chain delivers over 28 million lines of picked goods to the NHS annually and our systems consolidate orders from over 930 suppliers, saving trusts time and money in removing duplication of overlapping contracts.
NHS Supply Chain aims to deliver savings of £2.4 billion back into the NHS by 2023/2024, leveraging the buying power of the NHS to drive savings and provide a standardised range of clinically assured, quality products at the best value through a range of specialist buying functions. Its aim is to leverage the buying power of the NHS to negotiate the best deals from suppliers and deliver savings back into NHS frontline services.
There are 11 specialist buying functions, known as Category Towers, delivering clinical consumables, capital medical equipment and non-medical products such as food and office solutions. Two enabling services for logistics and supporting technology underpin the model.
Working in partnership with NHS trusts, service providers, and stakeholders, NHS Supply Chain aims to:
Anchor the business on the needs of the NHS by supporting NHS trusts to deliver safe and excellent patient care and through continuing to build the services the NHS needs.
Further strengthen the resilience of the supply chain by continuing to invest in key tools and capacity that build resilience and performance, across the end to end supply chain.
Deliver clinically assured, safe products that support improved outcomes for patients and users.
Support the NHS objective of becoming the world's first net carbon zero national health system.
Ensure a high performing workforce and highly efficient organisation.
Oversight and operational management of the model is delivered by the management function, Supply Chain Coordination Limited (SCCL), a limited company, wholly owned by the Secretary of State for Health and Social Care, SCCL is part of the NHS family.