National Healthcare Uniform – Preferred Bidders
We have reached a considerable milestone in the procurement process for the national healthcare uniform tender. The NHS Supply Chain: Hotel Services team have completed the tender process with the shortlisted suppliers to identify the final two preferred bidders. These suppliers are Alsico Laucuba Ltd and Mi Hub, also known as Alexandra.
We would like to thank our colleagues across the NHS for their continued support with this process. We have had many trusts and stakeholders involved throughout this process and will continue to work closely as we move forwards together.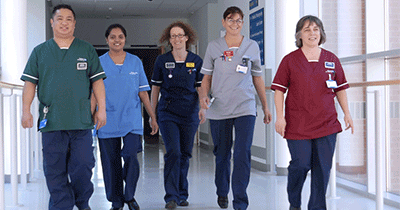 We are over the moon to have reached this stage of the process. I am sure for many it feels that we have been waiting for this day for a long time, with the unexpected, yet unavoidable, delays caused by the impact of Covid-19. I am proud to be leading the team for this project. We are looking forward to working together, and continuing to engage across the NHS, to bring this project to reality to deliver the national healthcare uniform the NHS workforce deserves.

Diane Woodham, Category Manager
The suppliers with preferred bidder status have been through a stringent and competitive procurement process. They are well established providers to the NHS and bring with them a wealth of experience and expertise as the awarded suppliers, of the current national uniform frameworks, for the NHS in Scotland, Northern Ireland and Wales. 
Alsico are delighted to have been chosen as preferred bidder for the new national healthcare uniform framework. This procurement has been one of the most extensive, yet rewarding, we have delivered in our 88-year history, drawing on the skills and dedication of the whole team to ensure our successful bid. We have a strong track record of working with the NHS and we look forward to strengthening this relationship further as we deliver this exciting and innovative national uniform project in partnership with NHS Supply Chain.

Greg Houlston, General Manager of Alsico
We are delighted to have been appointed preferred bidder status in this national project and we are very much looking forward to continuing to work with NHS Supply Chain to develop and launch the new uniform. Our Alexandra brand has been providing uniforms to NHS trusts since 1990, so our understanding of the healthcare environment will help us to develop the new uniform with the wearer in mind. We look forward to working with NHS Supply Chain and in continuing to support and service the needs of our customers in each trust.

Hayley Brooks, CEO of Alexandra, healthcare brand of Mi Hub