Single-Use Plastic Removal – Next Phase
As part of the NHS's drive to become net zero by 2045, one of NHS Supply Chain's sustainability priorities is the ongoing commitment to reduce the use of plastics in the products we supply to NHS trusts.
NHS Supply Chain: Hotel Services team has been focusing on this over the last 18 months by reducing the number of plastics including our range of expanded polystyrene (EPS) products available on the Catering Consumables and Equipment framework.
From February 2023 the team plans to take the big step of removing several single-use plastics (SUP) in the range ahead of anticipated legislative changes.
This change will affect some key categories including all EPS products, all plastic cutlery, and some food packaging.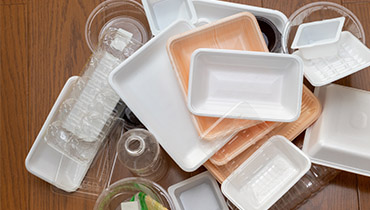 We are removing these products in February ahead of expected legislation changes. The reason for this is to prepare the market to ensure our suppliers have capabilities to deliver the changes and so NHS trusts have sufficient time to provide feedback on the proposed changes and product alternatives.
NHS Supply Chain: Hotel Services will provide specific details of all the affected products in due course, currently estimated for mid-December.