Home Delivery Service (HDS)
What Is Home Delivery Service?
Home Delivery Service (HDS) is an NHS Supply Chain bespoke service that we offer to NHS providers, specifically designed to meet the needs of patients. HDS enables an NHS trust to place orders for products on behalf of individual patients, who will receive delivery of those products directly to their place of residence.
Completing over 300,000 patient-level deliveries per year, our Home Delivery Service currently looks after over 61 NHS trust customers nationally. HDS accounts for just over 40% of the English NHS continence home delivery market.
What HDS Products Do We Offer?
Currently the Home Delivery Service provides all products on our Disposable and Washable Continence Care product framework which includes:
Adult Disposable Continence with Integral Fixation (includes pull ups, all-in-ones and belted)
Adult Disposable Continence without Integral Fixation Pants (includes shaped including male, rectangular and insert and faecal)
Fixation Pants for use with disposable pads (includes basic and comfort with and without legs)
Paediatric Disposable Continence Products (includes nappies and pull ups)
Disposable Accessory Products (includes procedure pads (formally underpads) and sheets)
Adult Washable Continence Products (includes various adult washable underwear)
Paediatric Washable Continence Products (includes various paediatric washable underwear)
Washable Accessory Products (includes bed and surface production).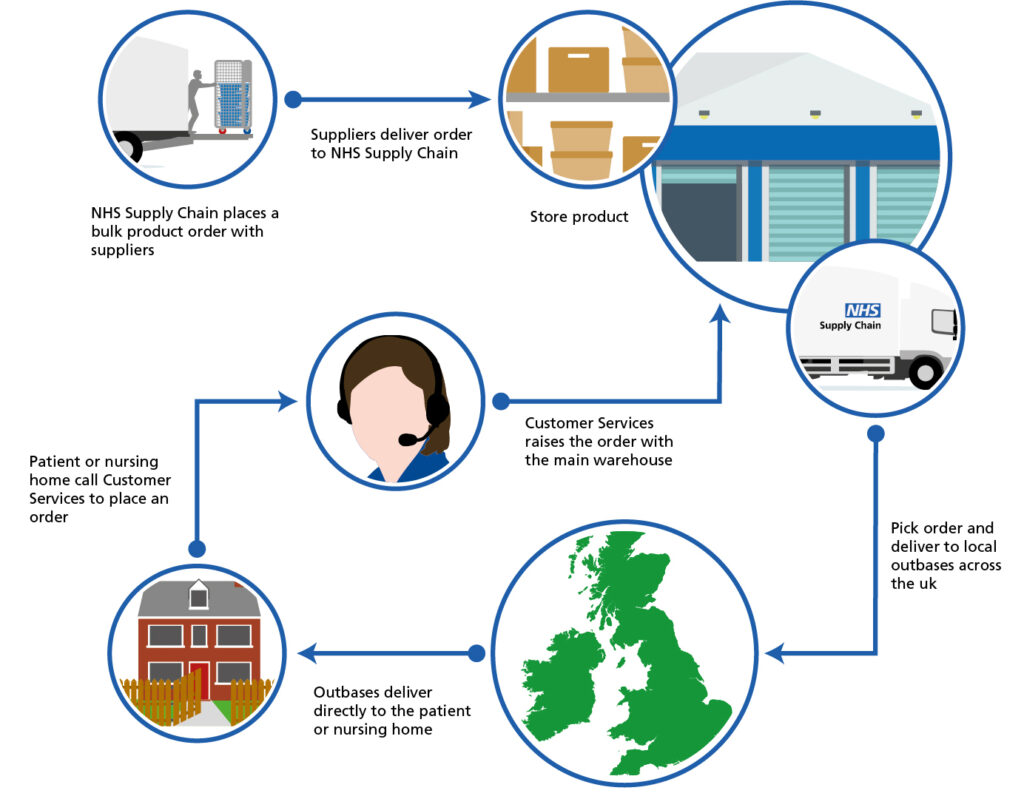 The patient, caregiver, or care home will call our HDS Customer Services Team to place their continence products order and arrange delivery. These orders last for a pre-agreed period, usually between a 6 to 12 week period.

Our Customer Services team will confirm the patient's identity and book the delivery with 3 working days.
The product will be picked and packed at a dedicated HDS warehouse and sent to a regional delivery depot. Then it is cross-docked for last-mile delivery in a fleet of unliveried vehicles. We complete enhanced DBS checks on all our drivers to ensure they are safe to handle patient data.
Patients can be reassessed by their clinical team as and when required; products prescribed can be changed, and delivery cycles amended. Additionally, patients have the option to use our bespoke 'Call Back' option, to activate orders using a unique patient ID number.
The delivery and service element are invoiced separately to product costs.
We have been working with HDS for a number of years now. HDS staff support the nursing and administration staff within our team to order and deliver products for our Paediatric continence patients. Our account manager and product supplier meet regularly with our team to review the products and costs that have been supplied; this enables us to keep a track of our budget. HDS staff are always available by email or telephone to answer queries and manage our patients

Racheal Edwards, Paediatric Continence Nurse, South East/West Essex Children's